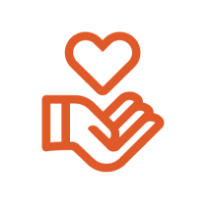 The Hope Fund is here for you
You may be stressed right now. You may not know where to go. You might not want to ask for help. But your colleagues at HCA Healthcare want to help you. Our Eligibility section below can help you determine if you should apply for help. You may review both who's eligible and what's eligible to understand if you will qualify for assistance from the Hope Fund. The grants are given based on both a qualifying event and a financial need. Every application must be able to demonstrate the request through supporting documentation. Once an application is received, your facility's grant leader personally reviews it to ensure colleagues are being helped in the best way possible.
HCA Healthcare colleagues include Parallon, Physician Services and Healthtrust Purchasing Group colleagues. Contractors with HCA Healthcare may email the Hope Fund to request an application for assistance.
Before beginning your application, please visit our supporting documentation page to understand what documentation must accompany your request. The Hope Fund is not able to consider grants without supporting documentation. Begin your online application by clicking the button above. Use your 3-4 ID and network password to log in, and the online grant application will guide you through the submission process in detail. Whenever possible, attach all supporting documentation to your online application.
You can also send documentation to us via email or by fax to 866-337-4354. Please be sure your name and 3-4 ID is on the cover page.
Review and submit your online application. Once you are finished entering information and attaching documents, select Submit.
After selecting Submit, you will receive an email confirmation to your HCA Healthcare email address that we have received your application. If you do not receive an email confirmation, please email us to ensure that we have received it.
Once you have submitted your application and documentation, the grant leader will review your application and make a recommendation to the Hope Fund staff at HCA Healthcare's home office in Nashville, Tennessee.
The goal of the Hope Fund team is to respond within two weeks after receiving your application, including all required documentation. Please note, your application cannot be reviewed until all supporting documentation is received. Your grant leader will let you know if your application is approved or denied or if further information or documentation is required to process your application.
If approved, the Hope Fund staff will typically provide assistance via direct deposit into your account, and you will receive a confirmation email.  In some situations, a check may be issued directly to a creditor.
If your application is denied, you will receive an email explaining the reason for the denial.
Only eligible HCA Healthcare colleagues may receive assistance through the Hope Fund, based on set criteria for events causing a financial hardship for the colleague. To be eligible for assistance from the fund, you must meet all requirements:
You must be employed directly by an HCA Healthcare affiliate as a regular full-time or part-time employee or PRN working a minimum average of 12 hours per week at the time of the event causing the hardship, as well as when assistance is provided.
The event that resulted in a financial burden must be a direct impact to the colleague.
You cannot have received financial assistance from the Hope Fund within the past 12 months (excluding natural disaster). Additionally, there is a 5 year $10,000 maximum on assistance.
The event causing the hardship must have occurred in the past 12 months.
When reviewing your application, your number of eligible dependents will be considered. Eligible dependents include:
Spouse (unless legally separated)
Unmarried dependent children under age 19
Unmarried dependent children under age 25 if dependent on you for support and a full-time student (as defined by the educational institution)

In some situations parent, current step-parent, current mother-in-law, current father-in-law and grandparent or grandchild may be considered eligible. These are in situations that directly impact the employee and proof of dependency may be requested when necessary.
These situations meet the Hope Fund guidelines:
Applicant or spouse/domestic partner has missed unpaid time due to illness (for self or dependent family member).
Applicant or dependent family member requires treatment with long distance travel to receive medically necessary treatment.
Cost of medical treatment is preventing an applicant or dependent family member from receiving care.
Applicant has incurred extreme medical costs and household income is below 400% of the poverty level.
Applicant is affected by a natural disaster such as fire, flood, tornado or hurricane.
Colleague or eligible dependent is a victim of domestic violence.
Death of the HCA Healthcare colleague.
Burial or travel assistance is needed due to death in the immediate family. Immediate family includes the colleague's parent or legal guardian, stepparent, brother, sister, current spouse/domestic partner, children, stepchildren, grandparents, grandchildren, current mother-in-law and current father-in-law. Assistance for extended family members such as parents and siblings is limited to sudden death events in which the colleague is the surviving next of kin. Assistance is not provided for parents/siblings that have a surviving spouse/children responsible for their services.
Other special situations that prohibit the colleague from maintaining their basic living needs. Assistance for situations in the basic needs "other" category may only be eligible once within a rolling five-year period, depending on the events leading up to the hardship.