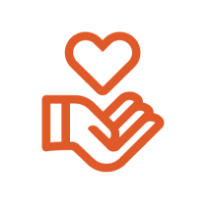 Campaign leaders are vital to the success of the HCA Healthcare Hope Fund. We want to thank you for serving in this role at your facility. The Hope Fund receives about a dozen requests for assistance from our colleagues across HCA Healthcare every single day. We are able to quickly meet those needs as a result of the hard work you do encouraging everyone to join together and give. You are the Hope Fund. Thank you so much for making our campaigns so successful every year!
We know that you are running your campaign in addition to doing the already demanding work at your facility so we have put together a number of grab-and-go resources for you to use during your campaign. Simply visit MediaWorks and find the HCA Healthcare Hope Fund. If you do not have access, please email Deana Campbell. Here you will find items to assist with your campaign such as:
Colleague communications
Colleague brochure
Posters
Table tents
Banners
Stories of hope from recipients
Year-round giving and reporting
We are often asked when a facility should run a campaign—the good news is it is up to you! The giving system is open year round, and the results are calculated on an annual basis. All donations in the system as of Dec. 31 each year are counted, and the results are announced in February of the following year.
As a campaign leader you can have nearly real-time giving reports at your fingertips, there is an approximate four hour delay —be sure to confirm your access to these reports as it can take two weeks for permissions to be granted. We ask that you limit access to these reports to only the main campaign leader at your facility.
Check your access by visiting the Employee Giving portal. Then while keeping your giving page open in one window open another window and go to the reporting site. We are providing a "How To" document for additional detailed instructions on downloading your reports. If you do not have access, please send your name, the name of your facility and your location code to deana.campbell@hcahealthcare.com and we will work with you to obtain access.
Talk with your CEO and gain their support of the campaign.
Create competition between departments.
Localize campaign materials using MediaWorks.
Have a Hope Fund recipient share their story.
Appoint department or "floor" leaders within the facility.
Organize a $1 a pay period campaign aimed at those not currently giving.
We always have facilities looking for best practice information. If you have something from your campaign you would like to share with others, please email it to Deana Campbell at deana.campbell@hcahealthcare.com.