Dan got help caring for his granddaughter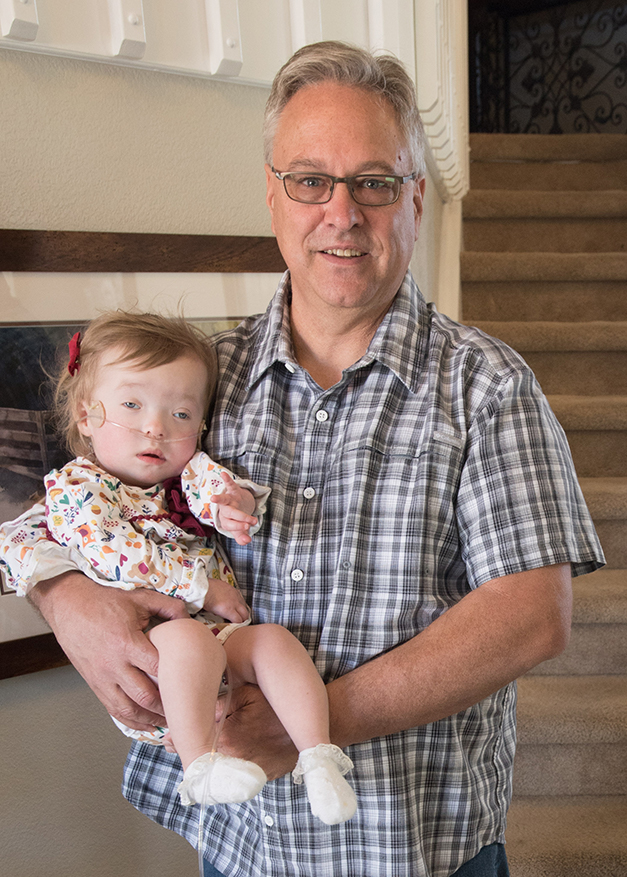 Dan Finger is a pharmacist approaching his ten year anniversary of working at HCA Healthcare. He and his wife have custody of their one year old granddaughter, Ryllah who has a rare genetic condition. Dan said "It basically affects every aspect of her development, including the ability to walk." Living in a multi-level home, Dan and his wife had concerns about being able to safely transport Ryllah up and down the stairs without falling as they get older and Ryllah gets bigger.
"Assistive equipment, no matter what you're talking about, is expensive." Dan said. "Anything you have to purchase whether it is a chair lift, special equipment for your vehicle, all of it." They had experience shouldering these costs for various things Ryllah needed, but the chair lift was particularly expensive and, though it seemed increasingly essential, they struggled to figure out how they could pay for it.
Dan wasn't sure if the Hope Fund would be able to assist in this special situation, but he decided to apply all the same. It wasn't long before his family was approved to receive help. He said "It helped us tremendously. I was elated, I couldn't believe it. It allows us to go up and down the stairs while carrying oxygen and carrying her. It is a big deal. Having that chair took out all of the anxiety of possibly falling and hurting ourselves, her or both. It changed things for the better at our house."
Their family is so grateful for the assistance they received, and Dan cannot thank his colleagues enough. He wants our HCA Healthcare family to know "it's worth it to contribute. It doesn't require a lot of money. Even just a little bit helps and directly impacts people's lives."