Hope Fund Helps a Family Keep Going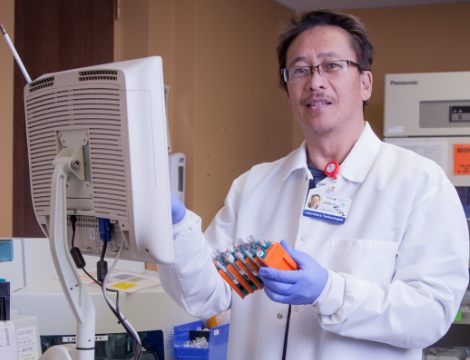 In a matter of seconds, Jose "Rusty" Ouano, a medical technician at Centennial Medical Plaza in Centennial, Colorado, went from joyfully singing during a church service to getting so weak he nearly passed out. An ambulance rushed him to the hospital where doctors worked to find what was wrong.
"It was scary for my wife. Scary for me," he says. "They found that I had a heart condition."
After several weeks in the hospital, where he got a pacemaker, Rusty returned home. But rather than being on the road to recovery, his health continued to deteriorate. He developed terrible rashes, his blood pressure plummeted to dangerous levels, and he was running a fever. He found himself in the emergency room once again.
"It looked like I was dying," he says. "Whatever I had was destroying my whole body."
As doctors tried to determine the cause, he spent more time in the hospital, followed by months of bed rest at home. His wife stayed home to care for him, and after nearly five months he built up enough strength to return to work. Meanwhile, his bills had piled up while the couple's income had gone down.
"We were down to our last penny," Rusty recalls. "I didn't know what was going to happen, and my boss said, 'Call the Hope Fund.'"
"I am contributing more to the Hope Fund now because I see that it really helps," he says. "I'm so glad that it is able to help one little person like me, even when it is dealing with big tragedies like the hurricanes. I didn't know what to expect, and the Hope Fund really did help us out of a bad situation."