When Her Daughter Faced Vision Loss, Kelly Was Helped by Colleagues Through the Hope Fund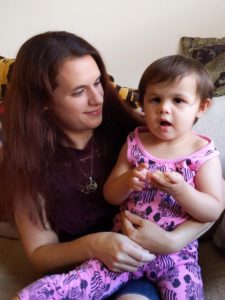 When Kelly Penn took her two-year-old, Charlotte, to the pediatrician after one of her eyes appeared to be crossing, she learned surgery was needed to preserve Charlotte's vision.
"Both of her eyes were crossed, and if she remained that way she would continue to lose vision," said Kelly, a Medical Assistant in Virginia. "We could put it off, but the longer we wait, the greater the vision loss."
The timing was not good. "Surgery for her was really overwhelming, because I had a hospitalization of my own at the same time, so we were kind of in dire straits. I was not in a place financially where I could afford the surgery, but it couldn't wait because it's my daughter's vision we're talking about," she said.
Kelly learned about the HCA Healthcare Hope Fund during her orientation when she first joined HCA Healthcare in 2015. "I was really impressed," she said. "Just generally, it's hard for people to put money aside, and the fact that folks were donating to the Hope Fund to help their colleagues was impressive to me."
She decided to apply for help. Kelly recalled, "I was at work and I got this email that said I had been approved, and I just started crying." It was emotionally overwhelming.
Relief and excitement quickly gave way to a deeper feeling. "I felt humbled because I had been given such a gift," Kelly said. "It was like this huge burden had been lifted off. I felt like we could keep our heads above water now."
Charlotte's surgery was a success and now she is a healthy, active 2½-year-old. "She's doing great," Kelly said. "She got a clean bill of health from her doctor who said her vision is fine and will continue to get better now that her eyes are better able to focus." Kelly is so grateful for her colleagues who make the Hope Fund possible, and she encourages any member of our HCA Healthcare family to consider the Hope Fund if they find themselves facing a crisis. "If you need help, reach out and ask for it," she said, "because there are people who want to help you."