When Desiree Was Backed Into a Corner, You Helped Provide a Way Out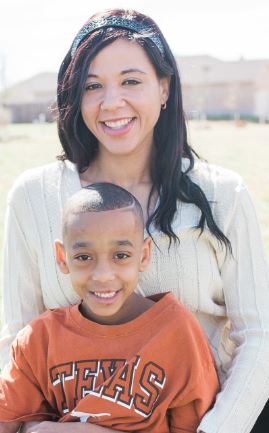 If anyone knows what to expect after surgery, it's a healthcare professional. So when Desiree Singleton needed an outpatient procedure in 2015, she figured she would be back at work pretty quickly.  But unexpected complications led to a much longer recovery period, and the HCA Hope Fund became a partner in her recovery.
"I had complications after the initial procedure, and underwent a second surgery to take care of the problem," says Desiree, who was an LPN at Plano Medical Center at the time. "Those complications meant that I had to be hospitalized for a week, and was out about a month to recover from the blood loss. At the same time I was in my last semester of school to finish my nursing degree, and wasn't sure how I could continue due to the financial stress that was increasing, as well as my low energy after surgery."
Desiree is also a single mother, so add those duties to an already busy life, and it's easy to see how she became overwhelmed.
"I plan for everything, but I did not plan for that," she says. "I found myself trying to heal, not being able to work and worried about everything from that last semester of school to things like the mortgage. I was really stranded in every way, and didn't know which way to turn."
She had heard of the Hope Fund through awareness campaigns at the hospital. "I'm the type of person who will never ask for help, but would rather be seen as a go-getter and independent," Desiree says. "But I felt like this was a teaching moment, to ask for help when I needed it. I knew that physically I was not OK, and that the doctor would not let me go back to work for a while. So I just decided to do it."
She filled out the application, and when the help came it really turned things around. "Without the Hope Fund, I would have been really stranded. The Hope Fund assistance encouraged me to keep going. It shows just how much HCA as a whole cares for its employees, as well as how all of us care for each other. When you're dealing with an emergency, it's so nice to know that someone's looking out for your welfare."
"I was just ecstatic," she says. "I took care of some bills and was able to focus on healing. I was able to finish that last semester of school, and since then I have passed my boards and become a registered nurse! I am so eager to tell people about the Hope Fund and how it can help any HCA employee when they are down and out. It's a wonderful thing to have in place for all of us."