Aspiring nurse's dream was almost derailed by a major mechanical failure. Our colleagues changed everything!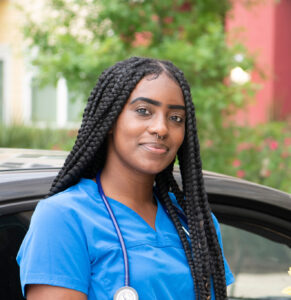 Sunflower Blanton is a patient care technician with a dream to become a nurse. Her life is busy as she juggles her job taking care of patients in Texas and attends her challenging yet rewarding classes to make her dream a reality by earning her nursing degree.
Like many students, she lives on a tight budget paying for classes on top of normal household bills – which is why when her car broke down, she experienced a major hardship.
With no other way to get to work or to her classes, Sunflower found herself having to resort to taking daily, expensive Uber rides to get back and forth which quickly added up. This, combined with the unanticipated cost of repairing her vehicle, made her feel like she was drowning. "There was just so much stress," she said.
Then, her supervisor told her about the Hope Fund and encouraged her to apply. When she learned she would be getting help, she felt a powerful sense of relief. She said, "The Hope Fund was like a miracle. It was such a blessing." Thanks to help from her colleagues through the Hope Fund, Sunflower was able to continue on the path she had been working so hard for. Able to get to work and get to her classes, she recently graduated with her two-year RN associate's degree, and plans to continue her education pursuing a bachelor's degree in nursing. Sunflower encourages her colleagues faced with financial hardship situations to remember the Hope Fund. She said, "It's there to help us."