Deidre Traylor – Hope Fund helps when surgery complications delay return to work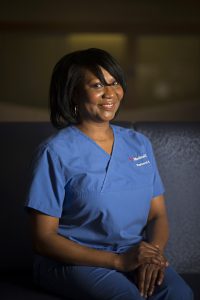 Deidre Traylor is a familiar face at Medical City Dallas Hospital. The surgical nurse has been there for more than 25 years, making sure patients get everything they need before, during and after surgery. When her own procedure for breast cancer resulted in complications that kept her out of work for an extended period of time, the Hope Fund was able to give her the care and support she so freely gives others.
"My reconstruction failed to heal properly, so I was out of work longer than I expected," Deirdre says. "I could not return to work as quickly as I wanted, and so my family faced some financial hardships. I did go back to work just before Thanksgiving, but money was still very tight. We had been given a turkey, and I thought that might be all we would have to eat!"
Even though she knew about the Hope Fund, like many people she thought it was for "catastrophic needs, like losing your home." But after talking with her human resources representative and learning that the Hope Fund is there for a much larger scope of needs, she applied for help.
"It didn't take more than a week, if even that long, to process my request," she recalls. "The assistance was placed directly into my checking account, which was even more helpful. Without it, I really don't know what I would have done. It helped us when we were in a really tight spot."
"I'd had issues before, and never even thought about the Hope Fund," she says. "I thought it was for really bad things, like a car wreck or a death in the family. Now I see just how much they do, and how many people can be helped. I really think if people knew more about the Hope Fund, they would contribute more, because they really don't know how much it does for people who are down and out."