Hope Fund Donors Helped Dawn & Her Family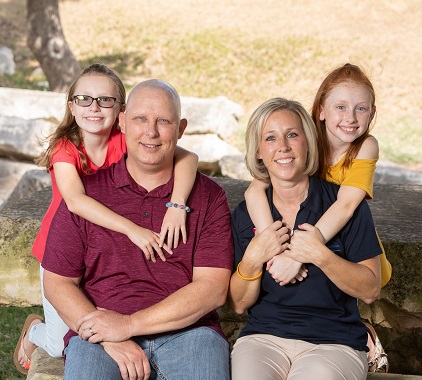 Dawn Martin, a cardiac rehabilitation nurse at St. David's Georgetown Hospital, noticed that her husband was having trouble eating dinner one evening. He kept choking on his food. She quickly made an appointment with a gastroenterologist thinking that his esophagus likely needed to be stretched. When Dawn and her husband, Tom, sat in the room waiting to hear the results from the testing, they never imagined it would be cancer.
Dawn says hearing the doctor explain the diagnosis didn't feel real, but more like a bad dream. She thought to herself that the doctor must be talking about someone else – he couldn't be talking about her husband, who was only 46 years old. But Tom had a large mass on his esophagus and treatment needed to begin immediately.
"We didn't know what to do," said Dawn. "We have twin girls who are 10-years-old, and the insurance plan we chose previously seemed right for our family, but it had a high deductible – and his treatment required large payments which we weren't fully prepared for." Dawn's colleague, who had been helped by the Hope Fund a few years ago, suggested applying for assistance.
Dawn says that the application process was seamless and she is thankful for the help provided for her family. "I think we would be in a really tough spot financially without the help we received. The Hope Fund helped us focus on Tom's health, and not finances. We were stressed, but it put us at ease. Thank you to all who donate to the Hope Fund and helped our family in so many ways. Because of your generosity, we can now focus more on what's important such as family time, creating more memories, and doing all we can to keep my husband healthy and happy for a long time."