One missed step – Kari Pierce's Story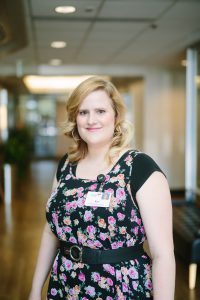 When someone starts off their story with "things were going really well," you know a bone-jarring conclusion is coming. Literally, in Kari Pierce's case.
"I had gone dancing with friends and when I was walking to my car I was going down some stairs," says Kari, a Unit Secretary at Timpanogos Regional Medical Center in Orem, Utah. "I had on a small heel, and I think it got stuck. All I remember is falling forward, my leg staying behind, and then me falling back on it."
Her leg was shattered. Specifically, she broke both the fibula and tibia in several places, requiring two plates and 10 pins in the first of three surgeries. She developed Compartment Syndrome, a condition resulting from increased pressure within a combined body space, almost losing her foot.
"I am so grateful for my coworkers and their wonderful care," she says. "Without them I would have lost my foot."  The forced immobility was hard for the active Kari, who was attending classes at Utah Valley University and also in a medical-assisting program some evenings. It was also hard not knowing how she was going to cover the bills that were piling up during her convalescence. But like her coworkers, another HCA support system was able to step in and help.
"I hadn't known much about the Hope Fund, but I can tell you I am sure happy that it's here," Kari says. "The process was really easy, just getting some paperwork together and sending it off. I heard back pretty quickly, and was so relieved. I'm able to take care of some debt, and that really means a lot, especially while I'm recovering and can't work as much."