After A Car Crash, Arianne & Tyrell Received Help & Hope!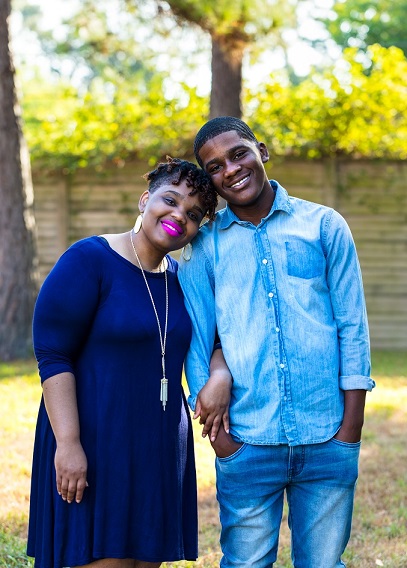 As a social worker at the Women's Hospital of Texas, Arianne Rumley provides support to women and new mothers coping with very difficult situations such as loss, serious illness, abuse and even domestic violence. She is highly skilled in providing care to patients going through a variety of life events, but everything changed when she and her son Tyrell were the ones needing help, without warning.
Arianne was in a bad car accident. "Someone t-boned my car, it spun around, then another car hit me. My airbags deployed, and when the EMTs arrived they thought I had broken my femur." She was rushed to the hospital where they discovered she had broken and dislocated her hip. She would need surgery, and would not be able to walk or work for eight weeks.
Being out of work caused a significant decrease in her income. She says, "As a single mom with a son who is almost 14, everything is my responsibility. I thought to myself 'who is going to care for him?' My mom lives in Los Angeles, and I don't have any family in Houston. That was my main concern: my child and being able to provide for the two of us." Adding to her already difficult situation, Arianne got pneumonia and ended up hospitalized for a total of 32 days.
"My HR department and coworkers encouraged me to apply for the Hope Fund. My family of coworkers stepped up and helped, and when I learned I had been approved, I cried. It's overwhelming – to be a single parent with all of the responsibilities on you and to know there are good people willing to help and support you."
She says, "I felt less stressed about making ends meet, paying the mortgage, and paying the hospital bills. It put me at ease and took the anxiety out of the equation so I could focus on getting better."
Arianne sees the Hope Fund as an amazing resource available for our colleagues. She said, "It's something that HCA Healthcare has that a lot of other companies don't – and it's a prime example of how we really do care like family."
Arianne is grateful to all her colleagues who helped her through Hope Fund. "I just want to say thank you to everyone who donates," she said. "When a crisis or emergency happens and you don't know what is next, it's a big relief. There are people out there that allow you to get by. They actually care."