Hearing good news – Danielle Austin's story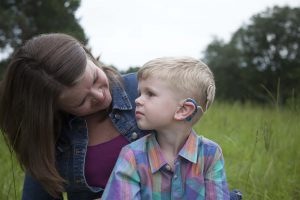 When Danielle Austin's son, Abbott, was born in 2010, she and her family were overjoyed. When they discovered that he had bilateral, profound deafness, they looked at all the options and chose cochlear implants for him so that he would have the best chance for normal hearing. (He remains the youngest child in Florida ever to receive the implants.)
And so began a journey for Danielle, (an administrative assistant at the North Florida Division office), along with her husband, their other two children and countless other family members. Specialized therapists, audiology appointments for implant adjustments and more have taken place over the last few years, but the hard work has paid off – Abbott tests above his age level for language abilities.
The journey has been expensive, and it's not over yet. Now that Abbott is entering mainstream kindergarten, he needs an FM system for use at home and school. The system consists mainly of a device that the teacher (or other speaker) wears around his or her neck and is connected wirelessly to Abbott's processor. This cuts out background noise, and allows him to hear 100 percent of what is being said vs. about 75 percent without the device.  "We were thrilled when we found out that we would get the assistance, because we had no way to cover the cost on top of other expenses related to Abbott's ongoing care, she says."
Even with fairly extensive knowledge of how the Hope Fund works and whom it helps, Danielle says she was still surprised and pleased at the ease of the application process. What's more, she adds, she's happy that the fund exists in the first place.
"It speaks volumes about HCA and how the company supports its employees," she says. "It really puts a spotlight on how they focus on us, and our families. Ours is a company that takes care of people who need healthcare, and it's also a company that takes care of its own employees when they are experiencing hard times."