Lillie McClain's Story of Hope – Then and Now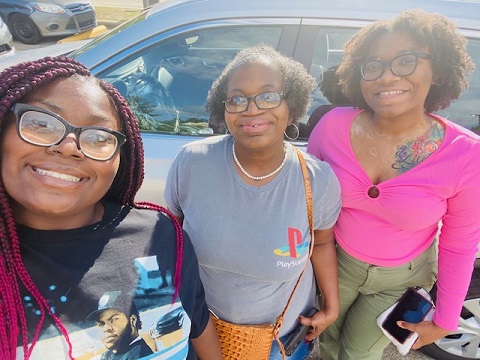 Hurricane Katrina nearly took away everything that mattered to Lillie McClain, a patient care technician in Louisiana.
The storm toppled three large trees onto Lillie's home, demolishing it. Her two older girls, Kayla and Jada, were covered with glass, but unhurt. Courtney, then just 16
months old, was gasping for breath.
"I knew time was limited," Lillie recalled. "I called 911, but they couldn't come out. I was holding the baby and, with my girls, was running in the street with water up to our waist. A neighbor across the street saw us and he grabbed the baby and rushed us to the hospital."
Little Courtney had suffered a cranial fracture. Lillie's youngest daughter spent three days unconscious in the ICU before she finally woke up.
Lillie's challenges seemed insurmountable – sheltering, feeding, and clothing her daughters, rebuilding her life, and getting Courtney to essential doctor appointments, all while the cost if it all continued to climb. "It was devastating," she said. One of her managers at the hospital gave her the phone number to call for the Hope Fund.
The Hope Fund helped her cover travel expenses for Courtney's neurologist appointments, and eased her financial burden. Now 15 years later, Courtney is a 17-year-old honor roll student preparing for her senior year of high school.
Lillie is so grateful to her the assistance she received from her HCA Healthcare colleagues. "It's a wonderful thing that people give generously to the Hope Fund for people in need," she said. "The Hope Fund represents hope. It gives you determination. Sometimes you think you don't have any answers to a problem, but the Hope Fund gives you the hope – just like the name says – that things are going to work out."
Lillie McClain featured in YOU Magazine, Summer 2006