Emily Boyce – Coping with unexpected medical needs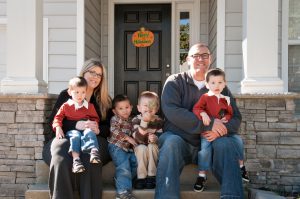 Over her five-year career with HCA, Emily Boyce had heard of the Hope Fund, but had never really paid that much attention to it, and what it does. In early 2012, that all changed.
"That January, we moved from Las Vegas to Nashville as I began a new job within HCA," says Emily, a former ICU nurse at Sunrise Hospital & Medical Center who now is the team lead for training with the EPIC Project. "We have four boys: a 4-year and 3-year old, and 2-year-old twins, so that was stressful enough. Then about two weeks after moving here, we followed up on some hearing tests that two of my sons had failed. We were given a diagnosis that they had bilateral, moderately severe hearing loss, which was permanent. They were going to need to see therapists right away, and would be wearing hearing aids the rest of their lives."
That was a tough blow, but she and her husband were able to get the boys into speech and occupational therapy right away, so that their development years could progress as normally as possible. However, that meant a steady stream of home visits and other hands-on needs, which in turn prevented Emily's husband from finding a new job.
"We suddenly had all the bills we were used to, plus all the new expenses relating to the boys' diagnosis, and we were down to one income," she says. "Even though we have insurance it doesn't cover hearing aids, and those were about $2,500 alone."
When the Hope Fund was recommended, Emily wasted no time in filing out an application.  She shared her story, submitted the necessary paperwork and within two weeks received some much-needed financial help.
"I was extremely grateful, as that boost helped us get by during a very worrying time," she says. "My sons are doing much better now, and are going to a special school for children with hearing loss. It's all starting to work out. I feel like my employer, and my senior leadership, care about me. It makes me feel like part of a family."