ICU Nurse Runs Marathon to Raise $$ for the HCA Hope Fund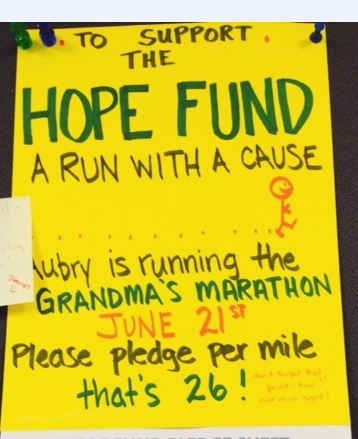 Nurse Aubry Driver-Hawkins says she is never happier than when she runs. Combining her love of running with raising money for a good cause made it even better and inspired her to run a  marathon to benefit the HCA Hope Fund.
"Every time I run in a race I see people with t-shirts or signs identifying a cause they're running for. I thought it would be a creative way for our unit to raise money for the Hope Fund," Aubry said.
Aubry took her idea to ICU Director D'Anne Van Gilder and they decided it was a perfect fit. The two women split the responsibilities, with Aubry training and running and D'Anne collecting the pledges.
Aubry and D'Anne asked their ICU co-workers to donate between $1.00 and $5.00 for each mile Aubry completed in the Grandma's Marathon in Duluth. She finished the race and her success netted more than $1,100 in donations for the Hope Fund. "I was surprised. I thought it was going to be half that," Aubry said.
"It's a testimony to the giving culture at The Medical Center of Aurora" said Director of Volunteer and Community Services.