Danny Rincon – After major accident, Hope Fund helps nurse get back on his feet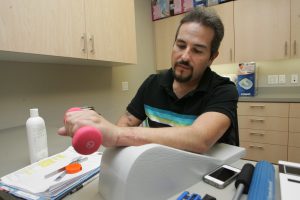 It was a beautiful October day, and Danny Rincon was out riding with his motorcycle club. As they rolled through the High Desert on their way back to Westlake Village, just northwest of Los Angeles, everything changed in an instant.
"There were seven bikes, and I was second to last," Danny recalls. "A guy came around a bend way too fast, and he lost control. He passed the first four bikes, and then came into our lane going more than 80 miles an hour."
Danny and two other motorcycles were hit. One man died at the scene, and Danny suffered injuries that included a shattered left arm and right leg, partial lung collapse and intestinal perforation. An emergency department nurse at Los Robles Regional Medical Center, Danny knew his injuries were serious even without the EMTs telling him so. He also knew he wanted to be back at his HCA facility, a sentiment shared by his coworkers.
"I was flown to a hospital and had seven hours or surgery, but by the next morning the administrator from our ER and my hospital had been in communication with the facility where I'd been taken," he says. "They got me transferred back a day and a half later."
A week of hospitalization followed, then another week in rehab at Los Robles' east campus. Then it was home for a long recovery that included physical therapy three times a week. All told, it meant a few months off work, and an unforeseen financial strain on his family. Happily, the Hope Fund was able to step in and offer some needed financial support.  "The accident and everything after it was very frightening, and when you get home you want to rest and recover but then the bills start coming in," Danny says. "My managers and our hospital administration saw that we had a need, and right away were suggesting that we reach out to the Hope Fund. Even though I had applied for disability, the help we received really helped us get through the gap period before any benefits were approved."
The speed of his application's approval was "amazing," he says, noting that it, along with the ongoing support he's received from his coworkers and management team, have made a difficult time more bearable.  "It's been overwhelming," he says. "They got me moved so quickly, and back to my hospital so they could take care of me. And as for the Hope Fund, you never want to be the person having the life-altering experience and needing it, but now I'm sure going to be telling more people about what it can do when the unexpected happens."