Grant Leader Spotlight: Keri Devillers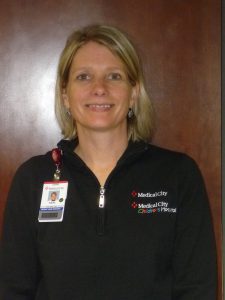 To be a Human Resources professional you must want to make an impact on the company, enjoy variety and love helping others!
With over 2,300 employees and one of HCA's largest hospitals, it could feel difficult for Keri DeVillers to really know the employees of Medical City Dallas Hospital, but after 16 years with the organization, Keri doesn't let that stop her from trying. As the Hope Fund Grant Leader she is able to connect with applicants in an even greater capacity. "I enjoy my role with the Hope Fund as I get to know employees a little more and I can help them in a time of need. I have many different responsibilities as an HR Business Partner, but assisting with the Hope Fund is something I feel honored to do." "We are like a family at Medical City, the Hope Fund is a way that we take care of each other."
Keri's responsiveness and ability to manage grants for her hospital is a reflection of her desire to help. Grants Specialist Lindsey McMahon coordinates grants for the American Group working with Keri on a regular basis, "Keri really cares for the employees she works with and takes the time to understand their situation and also work with the Hope Fund staff to determine the best way to assist." To encourage employees' involvement with the Hope Fund Keri shares "The Fund is a wonderful organization – you never know when you may be the one in need of assistance".
When not managing a busy workload, Keri can be found playing sports or board games with her husband and three children, volunteering at the elementary school, or coordinating her running group at church. Keri's commitment to the care and improvement of life is clearly demonstrated through her home life, work life and her role with the Hope Fund and we are grateful for her partnership!